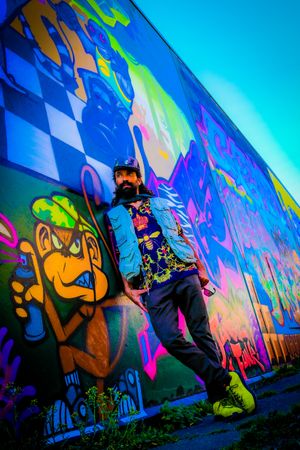 Adrian Xavier has been spreading his uplifting message music for two decades, performing at festivals, colleges and events of all kinds. Adrian Xavier has been a part of Seattle's thriving music scene his entire life, with over 50 performances with original members of RNR Hall Fame band Heart and a regular featured guest with Marmalade, Seattle's longest running funk collective. Reggae music has always been a part of his journey and  his role in cultivating the scene has led to exposer and development for many artist from Jamaica to Hawaii, Prezident Brown, Rocker T., Ras Michael, Clinton Fearon and Marty Dread are among the many artists Adrian Xavier has supported, toured and collaborated with extensivley on events and in the studio.     
His first album R Nature was mixed at Pearl Jam's recording studio and features a team of legenadry musicians from Seattle and Jamaica, the album to gained global praise in the reggae community establishing major rotations on Sirius XM's the Joint with the breakout songs "Mother Nature" and "Unleash the Lion" featuring Prezident Brown. Xavier's song "Mother Nature" is now a note worthy classic and was featured in the independent film #Wonderlust.  

With 3 albums and nearly 20 album collaborations, Adrian Xavier has established himself as a performer of musical depth and dimension. His music is a union of positive energy with socially aware lyrics, that strive to inspire people from all walks of life. Blending solid reggae dub sounds into genre bending projects, he has created music that delivers inspiration to listeners of all tastes. Whether he's found performing with his band or solo acoustic, the music touches audiences, providing a refreshing engaging space at each performance.